Dates for your Diary
Christmas at the Princess Project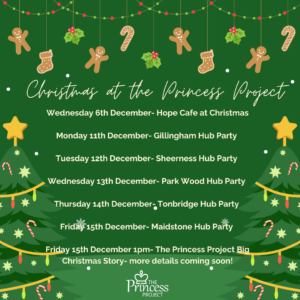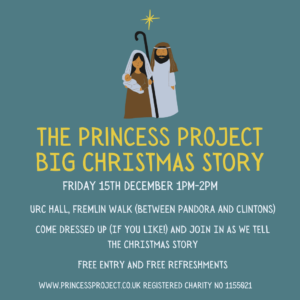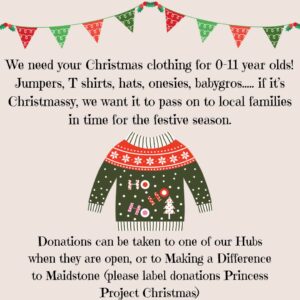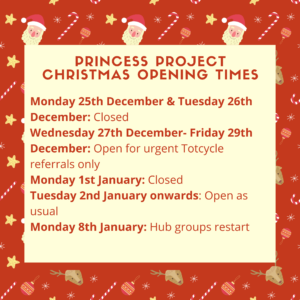 For information about any of our Christmas activities, please contact us.
Hope Cafe
This is a new group, meeting on the first Wednesday of the month after the Park Wood Hub. It offers anyone who would like to join us a chance to explore the Christian faith, hear some amazing stories, share food together, and bring any prayer requests. It is very informal, and children of all ages are  welcome. Contact us if you'd like to know more, or just come along and try it for yourself!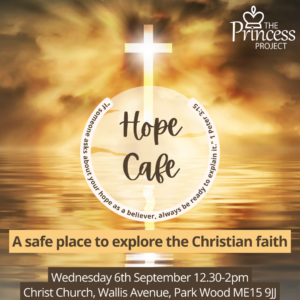 Wednesday 6th December 12.30-2pm
Wednesday 3rd January 12.30-2pm
Christ Church, Wallis Avenue, Park Wood, ME15 9JW
Princess Project Prayer
We meet once a month on Zoom to pray for the work of the Princess Project. If you'd like to join us, click here to join the call.
Upcoming dates
Monday 16th October 7.30-8.30pm
Monday 27th November 7.30-8.30pm
Monday 18th December 7.30-8.30pm
Volunteers' Celebration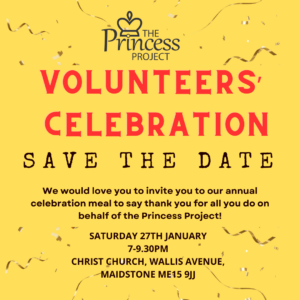 This is one of our favourite events of the year, when we get to celebrate our amazing volunteers and everything they do on behalf of the Princess Project throughout the year. If you are a PP volunteer, we would really love you to join us!